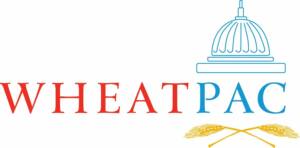 Why Contribute to the WheatPAC?
Make no mistake - if your message isn't being told on Capitol Hill, someone else is telling members of Congress their message and asking them to make votes that could harm your ability to farm. Your investment in the WheatPAC ensures members of Congress that appreciate how your operation will be impacted are elected.
The WheatPAC is NAWG's bipartisan political arm and helps to supports members of Congress who will vote to protect your farm, protect your livelihood, and protect your bottom line.
The WheatPAC pools together your investments with those of like- minded individuals who care about the agriculture being represented well in Congress. Join the WheatPAC today by contributing and be apart of advancing and improving the industry.
Note: Only personal credit cards and checks will be accepted. The WheatPAC cannot accept payments from business or farm accounts.
Contributions to WheatPAC are not tax deductible for federal income tax purposes. Contributions are voluntary and are used for political purposes, you may refuse to contribute without reprisal. Contribution guidelines are only suggestions, you can contribute more, less, or nothing at all and the National Association of Wheat Growers will not favor or disfavor any member because of the amount contributed or decision not to contribute. Federal law requires political committees to report the name, address, occupation and name of employer for each individual whose contributions aggregate in excess of $200 in a calendar year.