NAWG Weekly Updates, May16, 2019
NAWG Commends USDA's FSA Announcement to Extend CRP Contracts
On May 15th, the USDA's Farm Service Agency (FSA) announced that it will hold a continuous signup period for the Conservation Reserve Program (CRP) beginning June 3, 2019 and offer extensions for expiring CRP contracts. NAWG commends the Agency for recognizing the need to provide producers an option to extend contracts by allowing for one-year extensions to existing CRP participants who have expiring CRP contracts of 14 years or less. http://bit.ly/2HupgtQ
NAWG CEO Participates in Crop Insurance CEO Panel
On May 16, 2019, NAWG CEO Chandler Goule participated on a Farm Group CEO panel during the 2019 RCIS National Agent Conference, "Growing Success – Together". Agri-Pulse President Sara Wyant moderated the panel, which was also comprised of AFBF's Zippy Duvall, NCFC's Chuck Conner, and NCGA's Jon Doggett. Goule spoke on the value of crop insurance to NAWG'S members, and the work the organization has done to protect crop insurance.
JOINT PRESS RELEASE: Leading Agriculture Commodities Oppose Additional Tariffs on Chinese Goods
On Friday, May 10, 2019, the U.S. Trade Representative moved forward with increasing the tariff rate from 10 to 25 percent on $200 billion worth of Chinese goods. In response, the National Association of Wheat Growers, the American Soybean Association, and the National Corn Growers Association released a joint statement opposing the increase in tariffs. It's the first time that the three commodities, who represent around 171 million of acres of farmland in the United States, have issued a joint release.
Administration Announces as Much as $20 Billion in Trade Aid for Farmers
The Trump administration could make as much as $20 billion available to farmers in a second round of assistance designed to help offset losses from China's latest retaliatory tariffs, Agriculture Secretary Sonny Perdue said late Wednesday. "Our calculations initially probably range between $15-and-$20 billion," he said of the estimated economic damage to farmers and the scope of the potential aid package, but he reiterated that many details are still being decided. Read more in Politico.
Senate Ag Committee to Hold Climate Change Hearing
On Tuesday, May 21, 2019, the U.S. Senate Committee on Agriculture, Nutrition, and Forestry will hold a hearing titled, "Climate Change and the Agriculture Sector." For more information and to watch, visit the Committee site.
House Ways and Means Subcommittee to Hold Hearing on NAFTA
On May 22, 2019, the House Ways and Means Trade Subcommittee will hold a hearing titled "Enforcement in the new NAFTA". For more information, visit the Committee site here.
France Announces End of Glyphosate Use by 2021
On May 10, 2019, French Agriculture Minister Didier Guillaume recently confirmed that his country would eliminate glyphosate use by 2021 with limited exceptions, the Agriculture Department's Foreign Agricultural Service said in a post on Thursday. Guillame also said France plans to cut pesticide, insecticide and fungicide usage in half by 2025 and praised organic and biodynamic farming, FAS said. FNSEA, France's biggest farm group reacted negatively, the report said.
Agri-Pulse: EPA Overhauling Pesticide Evaluation
EPA is proposing new ways to determine when pesticides may harm endangered species, using what the agency calls real-world data. The agency says the interagency consultation process has resulted in EPA evaluations that find too many listed species could be harmed by pesticides. EPA says it wants its revised method to be "efficient, relying upon automation as much as possible, (and) protective without being overly conservative." A public meeting is scheduled on the new methods for June 10.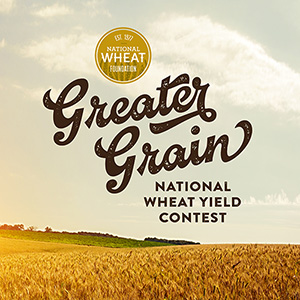 NWF Accepting Entries for 2019 National Wheat Yield Contest
The National Wheat Foundation (NWF) is currently accepting grower enrollment for the 2019 National Wheat Yield Contest! The Contest is divided into two primary competition categories: winter wheat and spring wheat, and two subcategories: dryland and irrigated. The Foundation is currently accepting entries for Spring Wheat. The Spring wheat entry deadline is August 1st with an early registration deadline of June 15th.