NAWG Weekly Updates, May 07, 2020
NAWG Signs On to COVID-19 Limited Liability Letter
NAWG joined several agriculture, manufacturing, and related groups in sending a letter to congressional leadership urging speedy action on liability protections for essential business during the Coronavirus Pandemic. Distributed on May 3rd, the letter argues that essential businesses "have remained operational during times of remarkable legal uncertainty and risk becoming the targets of coronavirus-related lawsuits that will ultimately do nothing to reduce the spread of this disease or address the suffering that Americans have endured because of it. Congress must act to ensure that such misguided litigation does not derail our recovery."
NAWG CEO Joins Wheat Harvest Movie Live – May 11th at 8:00pm
Join The Great Wheat Harvest film Director Conrad Weaver on Monday, May 11, 8PM Eastern Time for a special interview with Chandler Goule, CEO of National Association of Wheat Growers (NAWG)! Right here on the Wheat Harvest Movie Facebook Page! NAWG CEO Chandler Goule will discuss the Association's efforts to advocate for American wheat farmers during COVID-19 as well as remaining priorities for 2020.
NAWG Submits Comments for Two Classes of Neonics
On May 4, 2020, NAWG submitted comments on the Proposed Interim Decision for Thiamethoxam & Clothianidin (Docket Number EPA-HQ-OPP-2011-0865-1161) as well as to the Proposed Interim Decision for Imidacloprid (Docket Number EPA-HQ-OPP-2011-0865-1161). NAWG's comments focus on how these products help wheat farmers protect their crop from early season pests, pathogens and diseases.
USDA Garden: Wheat Exhibit Update
In September 2019, the Farm Journal Foundation installed its "Agriculture Through the Voice of the Farmer" exhibit on the National Mall near the USDA campus. By working with the National Wheat Foundation, the exhibit features a mobile phone guided walking tour of the garden that highlights crops (including wheat donated by NAWG Board of Director Eric Spates) growing in the space, as well as video and audio clips addressing various topics in modern agriculture. The exhibit also features ipads displaying video interviews of farmers closely affiliated with the Foundation. Here are pictures of what the wheat crop looks like today.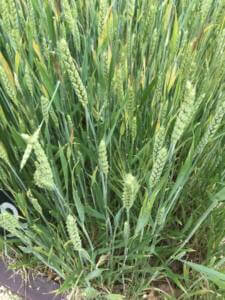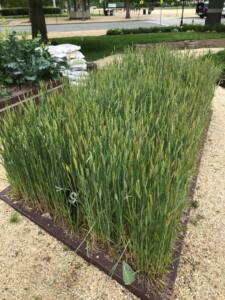 You can explore their digital garden tour here: https://www.fjfgarden.org/.
Senate Environment and Public Works Committee advance the America's Water Infrastructure Act (AWIA) of 2020
On Wednesday, the EPW committee voted 21-0 to advance AWIA, which is the committee's version of the Water Resources Development Act (WRDA) and includes significant investments in maintaining our inland waterways. An important provision was includes to adjust the cost-share requirement for inland waterway construction and rehabilitation projects, which could provide an additional $1 billion in construction funds over the next decade.  According to a 2019 USDA study, continued and increased investments in our inland waterway system will play a critical role in ensuring the competitiveness of U.S. agriculture on the global export market. This legislation now awaits consideration by the full Senate.
USDA Issues Statement on Economic Injury Disaster Loans Being Available to U.S. Agricultural Businesses
On May 4, 2020, the U.S. Department of Agriculture Secretary Sonny Perdue released a statement applauding the announcement that agricultural producers, for the first time, are now eligible for the Small Business Administration (SBA)'s Economic Injury Disaster Loan (EIDL) and EIDL Advance programs. SBA's EIDL portal has been closed since April 15. However, the Agency reopened the portal on May 4th in a limited capacity, as a result of funding authorized by Congress through the Paycheck Protection Program and Healthcare Enhancement Act. The legislation, which was signed into law by the President one week ago, provided additional critical funding for farmers and ranchers affected by the Coronavirus (COVID-19) pandemic.
Advisory Committee on Beginning Farmers and Ranchers Holds Public Teleconference
The U.S. Department of Agriculture's Office of Partnerships and Public Engagement has announced that it will be holding a public teleconference of the Advisory Committee on Beginning Farmers and Ranchers (ACBFR) to discuss the impact of COVID-19 on beginning farmers and ranchers. The call will take place on May 19, 2020 at 2:00 – 4:00 EDT. To listen to the discussion, call toll-free 866-816-7252 and use conference ID 6188761. To share written public comments for the committee's consideration, email ACBeginningFarmersandRanchers@usda.gov. Written comments must be received by May 18, 2020. For more information, see the Federal Register Notice.
New Conservation at Work Video Series Available from NRCS
A new video series from NRCS and farmers.gov, Conservation at Work, presents short and easy to understand videos about popular conservation practices. The videos feature farmers explaining how an individual practice helps their land and why they are using it. For more information, visit here. 
U.S. Grocery Shopper Trends in Response to COVID-19 Pandemic
Recently, the Food Industry Association (FMI) and The Hartman Group started conducting online tracking surveys to assess the impact of COVID-19 on U.S. grocery shopper perceptions and behaviors. The preliminary results can be found in the report here. 
USFRA Farm, Food, Facts Podcast
Stay in the know with U.S Farmers and Ranchers (USFRA) as they continue to navigate through these uncertain times with its Farm. Food. Facts. podcast. You can find it on Spotify, Apple Podcast, SoundCloud, Stitcher and Buzzsprout, or ask Amazon's Alexa to play the Farm. Food. Facts. podcast. In recent episodes, USFRA host Phil Lempert talked to molecular virologist Dr. Mark Jackwood about his extensive work with coronaviruses in poultry. Also, Lempert has a conversation with Erin Fitzgerald about the importance of lifting up those in the food supply chain and the small things you can do now to support those less fortunate in this time of crisis. To celebrate Earth Day, USFRA talks to Donna Kilpatrick, from Heifer USA, about their climate smart ag practices and how they're supporting local communities in this time of need. In USFRA's latest episode, Tim Glenn, Chief Commercial Officer at Corteva Agriscience, discusses the results of their recent research on the attitudes of Gen Z/Millennials towards the future of food and farming and touches on how agriculture is responding to the current pandemic.
USFRA Covid-19 and Food Supply Webinars
U.S. Farmers & Ranchers Alliance invites you to a series of webinars, for food and agriculture leaders, focused on the impact of the COVID-19 pandemic on our nation's food supply and to discuss a path forward. The first webinar takes place on May 14, 2020 at 11:30 a.m. CDT and the second is scheduled for May 28, 2020 at 11:30 a.m. CDT.
2020 National Wheat Yield Contest – May 15th Winter Wheat Deadline
On February 18, 2020, the National Wheat Foundation officially opened the 2020 National Wheat Yield Contest! The Contest is divided into two primary competition categories: winter wheat and spring wheat, and two subcategories: dryland and irrigated. The Foundation is accepting entries for Winter and Spring Wheat. The deadline for Winter Wheat entries is May 15th. The Spring wheat entry deadline is August 1st, with an early registration deadline of June 15th.