NAWG NEWS
NAWG Visits North Dakota for Wheat Quality Council's Tour
This week, NAWG CEO Chandler Goule and National Wheat Foundation project manager Anne Osborne attended the Wheat Quality Council's 2021 Hard Spring and Durum Wheat Tour. The tour provided valuable insight into the realities of a difficult growing season. During their time in North Dakota, Goule and Osborne experienced the impact the extreme drought has had on wheat growers, and engaged in discussions about how to advocate for grower needs in Washington, D.C. CEO Chandler Goule also engaged in an interview with Agri-Pulse about the tour this week. To view NAWG's press release about the tour, click here and here.
NAWG Applauds House Agriculture Committee Advances in Disaster Aid Bill
The House Agriculture Committee advanced the 2020 WHIP+ Reauthorization Act earlier this week. The act broadens the assistance available through WHIP+ and funds $8.5 billion in disaster aid. Through this legislation, eligible wheat growers who have been severely impacted by drought, excessive heat, and other qualifying losses would receive support through WHIP+ in 2020 and 2021. CEO Chandler Goule noted the need to include winter wheat in the disaster relief in a recent article as well. The full text of the bill can be found here, and NAWG's press release can be found here.
NAWG Signs Letter to Reform the World Trade Organization
This week, NAWG signed a letter sent to U.S. Trade Representative Katherine Tai and Secretary of Agriculture Tom Vilsack to support the reformation of the World Trade Organization (WTO). In the letter, NAWG and a broad array of agriculture groups expressed how WTO needs changes that can lead to improved agricultural exports and improve global agricultural sustainability. To read the full letter, click here.
Wheat Life Highlights the Importance of Dams and NAWG's Recent Visit
After a trip to the Pacific Northwest in June, NAWG CEO Chandler Goule and our partners in the PNW continue to advocate for dams. The tour allowed for a firsthand experience of how crucial dams are in transporting wheat and how detrimental the removal of the dams would be. With nearly 10 percent of all U.S. wheat exports moving on the Snake River that was toured during the visit, it became evident that wheat growers needed the dams to be protected in order to transport their crops to market. To view the full article, click here.
GOVERNMENT AND INDUSTRY NEWS
House Passes FY 2022 Appropriations Package
This afternoon, the House of Representatives voted 219 to 208 to advance a minibus of seven appropriations bills, including an agriculture appropriations bill that allocates $26.55 billion in FY 2022, which is an increase of $2.85 billion from FY 2021. This legislation includes a $321 million increase for agricultural research, $347.4 million in USDA funding to address the impacts of climate change and increases the minimum service requirements for projects funded through USDA's Broadband ReConnect Program, as well as $900 million for broadband expansion. The Senate has yet to consider its own FY 2022 agriculture appropriations bill. To read more details about the minibus, click here.
Bipartisan Infrastructure Framework Makes Progress
Yesterday, the Bipartisan Infrastructure Framework moved forward after it cleared the first procedural hurdle in the Senate. After weeks of negotiations, this is a step towards many Senators' goal of passing the infrastructure bill and budget resolution before the August recess. Notable pieces of the legislation include funding for expanding access to high-speed internet, investments in highway systems, and provisions to improve waterways. To read more details about the infrastructure bill, click here.
Lawmakers Push for Drought Relief from USDA 
In a letter to Secretary of Agriculture Tom Vilsack, 44 legislators from across the western United States urged USDA to provide critical relief to farmers that have been impacted by the extreme drought. While recent disaster designations for droughts provided relief for many agricultural producers, some counties were not covered by the drought designations that did not receive assistance. The letter focused on the need for flexibility for additional relief to help producers receive resources as the full extent of damages are evaluated. The full letter can be found here.
USDA Announces Intent to Nominate Chavonda Jacobs-Young
Earlier today, Secretary of Agriculture Tom Vilsack announces an intent to nominate Chavonda Jacobs-Young, Ph.D. to serve as Under Secretary for Research, Education, and Economics. Dr. Jacobs-Young previously served as Administrator of the Agricultural Research Service (ARS). Her background and expertise in agricultural scientific activities will be beneficial as Under Secretary. To read more about Dr. Jacobs-Young and the intent to nominate her, click here.
Senate Agriculture Committee's Work on Nominations
On Monday, the Senate Agriculture Committee voted to advance Jennifer Moffitt's nomination to serve as USDA's Under Secretary of Agriculture for Marketing and Regulatory Programs. Her nomination will now be considered by the full U.S. Senate for confirmation. To view more about her nomination, click here. Earlier today, the nominations of Xochitl Torres Small to be Under Secretary of Agriculture for Rural Development and Robert Bonnie to be Under Secretary of Agriculture for Farm Production were considered by the Senate Agriculture Committee. To watch the hearing, click here. To learn more about Robert Bonnie's nomination, click here. To learn more about Xochitl Torres Small's nomination, click here.
U.S. Drought Monitor (USDM) Update
A robust Southwestern monsoon circulation delivered drought-easing rainfall but sparked localized flash flooding across large sections of the Four Corners States, as well as the southern Great Basin, but critically dry conditions persisted across northern California and the Northwest. In the driest areas, wildfires—some sparked by lightning—dotted the landscape, with containment of some blazes hampered by high temperatures, low humidity levels, erratic winds, and abundant fuels. Farther east, another round of blistering heat across the northern Plains further stressed rangeland, pastures, and a variety of summer crops. The central and southern Plains also experienced some hot weather, although agricultural impacts were tempered by mostly adequate soil moisture reserves. Meanwhile, mostly dry weather covered the Midwest, continuing a trend that had developed in mid-July. Short-term dryness was not yet a concern in the previously well-watered lower Midwest. However, reproductive corn and soybeans in drier areas of the upper Midwest were subjected to increasing levels of stress, especially as temperatures began to rise. To view the U.S. map and regional reports, visit the website here.
NATIONAL WHEAT FOUNDATION NEWS
Gifts of Grain
Gifts of Grain is a new fundraiser recently launched by the Foundation in hopes to raise money to continue wheat education and research. Farmers can donate "gifts of grain" from unsold crop inventory. Any commodity traded such as wheat, corn, cattle is eligible for donation. The donor may deliver the grain to the elevator of their choice and ask to transfer ownership of the donated bushels to the National Wheat Foundation. Click here for additional details or contact NWF project manager, Anne Osborne at AOsborne@wheatworld.org to learn more about how you can participate in Gifts of Grain.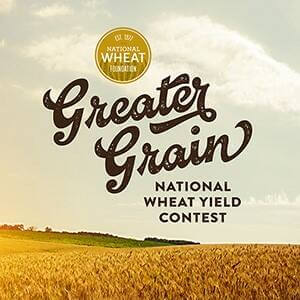 Registration for National Wheat Yield Contest Spring Wheat Closing this Weekend
Spring Wheat growers, if you have received a few of the thunderstorms or you have a five-acre piece of spring wheat that looks good, you can still enter the National Wheat Yield contest! Spring Wheat entries are $125 per entry and accepted until August 1. The wheat contest is administered entirely online, and growers can register at yieldcontest.wheatfoundation.org. Talk to your seed supplier or contact us at National Wheat Foundation if you need help entering or want more information.
Bayer Leadership Program Applications Deadline Approaching
The Bayer Leadership Program applications are due August 1, 2021. The program is for grower leaders and future leaders in the wheat industry at the state and national levels. Learn more here or contact Anne Osborne at aoseborn@wheatworld.org for questions and an application.
ARTICLES OF INTEREST
"Freezing Temps Could Hurt Brazil's Corn, Wheat Crops"
– World-Grain, July 29, 2021
"Man Rescued from Nebraska Grain Bin"
– Feed and Grain, July 29, 2021
"Technology is…Harvesting Field Data"
–AgWeb, July 29, 2021