NAWG Weekly Updates, January 21, 2021
NAWG NEWS
NAWG Signs on to Letters of Support for of Political Staff Appointments
On January 20, 2021, several ag groups, including NAWG, sent a letter to Senate Agriculture Committee leadership urging confirmation of the Honorable Thomas Vilsack to serve as Secretary of Agriculture. Additionally, on January 20, 2021, several ag groups, including NAWG, issued a letter to the leadership of the Senate Committee on Environment & Public Works in support for the nomination of Michael Regan to serve as Administrator of the Environmental Protection Agency.
2021 NAWG/USW Annual Conference, February 22-25, 2021
Due to COVID-19, NAWG has combined its Winter Conference and annual meeting at Commodity Classic into one Annual Conference. The 2021 NAWG/USW Annual Conference will be a hybrid event. For a copy of the agenda, to book your housing, and for complete details, visit NAWG's website here.
INDUSTRY NEWS
U.S. Department of Agriculture Announces Key Staff Appointments
On January 20, 2021, the USDA announced the names of individuals who will hold senior staff positions in Washington, D.C. Read the release here.
USDA Offers Additional Assistance for Certain Producers Through Coronavirus Food Assistance Program
On January 15, 2021, former U.S. Secretary of Agriculture Sonny Perdue announced the U.S. Department of Agriculture (USDA) will provide additional assistance through the Coronavirus Food Assistance Program (CFAP), expanding eligibility for some agricultural producers and commodities as well as updating payments to accurately compensate some producers who already applied for the program. Producers who are now eligible and those who need to modify existing applications due to these updates can contact USDA's Farm Service Agency (FSA) between Jan. 19 and Feb. 26.
USDA Announces Details of the 2021 Agricultural Outlook Forum Program
The U.S. Department of Agriculture (USDA) announces details of the 97th annual Agricultural Outlook Forum, which will be held virtually on February 18-19, 2021. The Forum's program will begin with a presentation by USDA's new Chief Economist, Dr. Seth Meyer, on the Department's outlook for U.S. commodity markets and trade for 2021 and the U.S. farm income situation. A keynote address by the incoming Agriculture Secretary, presentations by Congressional leaders, and a session on genetic literacy are also scheduled for the morning on the first day of the Forum.
USDA to Open Signup for the Conservation Reserve Program and CRP Grasslands in Early 2021
On November 12, 2020, the U.S. Department of Agriculture (USDA) announced the signup periods for the Conservation Reserve Program (CRP) and the CRP Grasslands in 2021. Signup for general CRP will be open from Jan. 4, 2021, to Feb. 12, 2021, and signup for CRP Grasslands runs from March 15, 2021 to April 23, 2021. Both programs are competitive and provide annual rental payments for land devoted to conservation purposes.
COMMUNICATIONS NEWS
Commodity Classic Virtual Event – Registration Opens January 26th
Registration will open Tuesday, January 26, 2021 at CommodityClassic.com. The registration fee is waived for the first 5,000 farmers thanks to the generous support of sponsors. All other registrants and farmers after the first 5,000 will be charged $20. The registration covers all online educational sessions and events as well as access to all archived sessions through April 30, 2021. Learn more here.
NATIONAL WHEAT FOUNDATION NEWS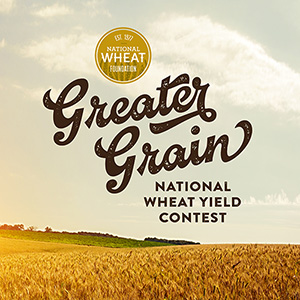 PRESS RELEASE: The National Wheat Foundation Officially Opens its 2021 National Wheat Yield Contest The National Wheat Foundation (NWF) is officially accepting grower enrollment for the 2021 National Wheat Yield Contest! The Contest is divided into two primary competition categories: winter wheat and spring wheat, and two subcategories: dryland and irrigated. The Foundation is accepting entries for Winter and Spring Wheat. The deadline for Winter Wheat entries is May 15th with an early registration deadline of April 1st. The Spring wheat entry deadline is August 1st, with an early registration deadline of June 15th. The wheat contest is administered entirely online, and growers can register at www.yieldcontest.wheatfoundation.org.
ARTICLES OF INTEREST
"Biden White House Announces Regulatory 'Freeze'"
Agri-Pulse, January 20, 2021
"Bill Gates Becomes Top US Farmland Owner"
Fox Business, January 15, 2021
"Russia Plans to Raise Wheat Export Tax from March 1, Global Prices Rise"
Reuters, January 15, 2021
NAWG TWEET OF THE WEEK
Looking at the past seven days, this NAWG tweet had the most impressions and engagements.